Risk of Falls on Construction Sites in Georgia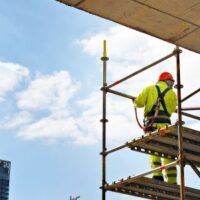 The construction site is one of the most dangerous workplaces for employees, with heavy equipment, scaffolding, electricity, and numerous crews all contributing to accidents. Among these factors, there is one particular type of accident that rises to the forefront. According to the National Institute of Occupational Safety and Health (NIOSH), falls are the leading cause of workplace fatalities in construction. Falls comprise more than 36 percent of the total deaths in this industry. Plus, many other construction workers are injured by falls, sometimes leading to disability and forcing them to take time off work.
Construction site accidents are usually covered by Georgia workers' compensation laws, which pay benefits to qualifying workers. These benefits will be crucial as financial support, as the injuries from falls can be severe. You can rely on an Atlanta construction accident attorney for assistance with the claims process, which can be challenging. Some background information on the dangers of construction site falls is also important.
Construction Accidents That Cause Falls: The category of construction site falls includes three specific scenarios:
Falls on the same level are usually caused by spills, debris, uneven surfaces on scaffoldings, and tripping over wires and cords.
A fall from a height occurs when a worker plunges from one level to a lower platform on the construction site. At times, the accident occurs because the employee was struck by an object first.
Swing falls happen when someone falls and the safety equipment engages, but the tether to the harness is not properly placed. The worker could swing many yards through the air, eventually striking the side of a building or other object.
 Injuries from Falls: A fall on the same level caused by tripping or slipping may result in minor injuries, such as cuts and bruises. However, more serious fall accidents in construction can lead to severe, catastrophic harm. Examples include:
Traumatic brain injury (TBI), concussion, and other head injuries;
Complete and incomplete spinal cord injuries;
Trauma to internal organs;
Broken bones; and,
Hip and shoulder dislocation. 
Benefits for Construction Workers: One of the most important benefits under Georgia's workers' comp system is the medical care you receive for your injuries. Your treatment costs are covered, from the initial treatment and stabilizing your condition to the surgery or procedures that may become necessary in the future. In addition, you may be entitled to:
Wage replacement for days missed or a job transfer that affects your earnings;
Benefits for total or partial disability, on a permanent or temporary basis; and,
Death benefits, for qualifying survivors who lost a loved one in a construction site fall. 
Discuss Options with a Georgia Construction Accident Lawyer
Falls may be common in construction, but it is reassuring to know that you have access to workers' comp benefits. For more information on your rights, please contact The Forsythe Law Firm, LLC in Atlanta, GA. You can set up a free case assessment by calling 404-476-2717 or visiting our website. After reviewing your situation, a construction accident attorney will advise you.
Source:
cdc.gov/niosh/construction/statistics.html