Who is Liable for Slip and Fall Accidents in Georgia?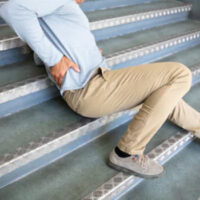 Slip and fall accidents are a more serious threat than you might expect, leading to more deaths and disabilities than motor vehicle crashes. According to the US Centers for Disease Control and Prevention (CDC), almost 44,700 people are killed because of unintentional falls every year. Another 8.59 million victims suffer injuries in slip and falls, leading to considerable losses. If you were hurt under such circumstances, you may qualify to seek remedies under Georgia personal injury laws.
When property owners do not take reasonable care to maintain a safe space, they create a risk of accidents. Victims can recover damages under the theory of premises liability, which includes slip and falls. However, the legal concepts extend to other parties besides the owner, so you may need to pursue multiple individuals or companies. An Atlanta slip and fall accidents attorney can explain more about potential parties in these cases, and some information about types of damages is also useful.
Potential Parties in a Slip and Fall: The duty of keeping a safe space falls on the owner of property, because this person or entity has control over the premises and is in the best position to correct hazards. When there are other parties exercising control and operations, they may also step in the shoes of an owner for liability purposes. In a slip and fall case, you could have grounds to purpose:
A landlord that leases space to tenants;
Tenants who rent individual spaces;
A property management company;
The promoter of an event on the premises; and,
A company that operates common areas within a building, such as a parking lot or garage.
 Other Types of Accidents on Property: These incidents are loosely referred to as slip and falls, but there are many others that can happen when the owner or operator of the premises is negligent. Some common accidents related to hazards on property include:
Being struck by falling merchandise;
Tripping over items in aisles and hallways;
Electrocution from loose wiring; and,
Injuries from criminal activity on the premises. 
How to Recover Damages After a Slip and Fall: Though there are multiple potential parties, you will typically deal with their insurance companies. You start the legal process by filing a claim and attempting to work out settlement, but insurers are in business for profit. Your claim represents a loss, so there can be challenges with getting a fair counteroffer.
If the insurance company refuses to pay a reasonable amount, you will have to sue these potential parties in court to recover medical costs, pain and suffering, and other monetary damages.
Trust a Georgia Slip and Fall Lawyer to Pursue At-Fault Parties
Knowing the steps in the legal process is helpful, but it takes a solid legal strategy to ensure you get fair compensation. The Forsythe Law Firm, LLC is experienced in premises liability cases, so we will tackle the challenges from start to finish. Please contact us to schedule a free case review. You can call 404-476-2717 or go online to reach our Atlanta, GA offices.
Source:
cdc.gov/injury/wisqars/pdf/leading_causes_of_nonfatal_injury_2017-508.pdf